BACTERIAL FILTRATION EFFICIENCY





+ Premium-quality hypoallergenic medical face mask, made out of the highest quality raw materials of EU origin
+ Meets EN 14683 standard (medical mask) requirements, Type IIR
+ For medical, pharmaceutical, factory, and office workers – and for you
Premium-quality hypoallergenic medical face mask, made out of the highest quality raw materials of EU origin
+
Meets EN 14683 standard (medical mask) requirements, Type IIR
+
For medical, pharmaceutical, factory, and office workers – and for you
Interested in ordering? Send us a request and we'll get back to you shortly
Taking into account the global situation last spring in which there was a shortage of medical masks at the beginning of the COVID-19 global pandemic, followed by non-certified masks flooding the
markets from China, we decided to invest in high-quality (EN 14683) medical mask production capacity in Lithuania. That´s how NORDMED Ltd. was established – a responsible business, based in Lithuania, specializing in hypoallergenic medical disposable face mask production. We hope that in this way, we can contribute to making Lithuania one of the EU's stockpiles of medical supplies.
In the near future, we plan to expand our production to other medical items, creating a supply of sustainable and high-quality disposable medical items for all of Europe.
Our vision is to ensure safety for doctors, employees of companies in various sectors, and all European people in both work and leisure environments.
We are constantly improving our operational processes, implementing systems to ensure safe products and their quality, carefully supervising production, and controlling the quality of products from
the purchase of raw materials to the delivery of products to customers. Our priorities are the consistent quality of our masks and high hygiene culture.
We are guided by the principle that a mask must not only perform its primary and most important function – protection against bacteria – but also be comfortable to wear, with soft ear loops and breathable, odorless, and skin-friendly materials. For this reason, our products have been tested in laboratories for skin irritation, impermeability to splashes of liquid, cytotoxicity, and bacterial filtration efficiency.
Our aim is to ensure a supply chain close to the consumer; therefore, we maintain agreements with raw material producers in European countries to ensure an uninterrupted supply chain. This business model is in line with the vision of moving the supply chain and production closer to the consumer as set out in the Plan for the DNA of the Future Economy approved by the Government of the Republic of Lithuania.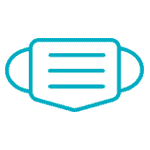 Produced according to
EN 14683 standard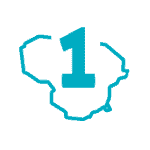 Certified by VASPVT
(State Health Care
Accreditation Agency)



Wash your hands
Before picking up the mask, wash your hands with soap and water or disinfect with a suitable agent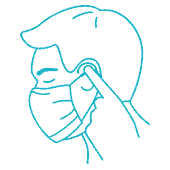 Put on the face mask
With the blue side outwards, put the mask on your face by wrapping the elastic loops around your ears one after the other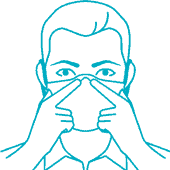 Adjust to your face shape
Bend the nose clip so that the mask snugly fits your face. Mask must cover your nose, mouth, and chin

Dispose safely
Take off the used mask by touching only the elastic loops. Cut the loops with scissors and dispose of the used mask with household waste